Affiliate marketing is not a new term in the world of online business. For years, businesses have leveraged affiliate programs to drive sales and build brand awareness.
While the concept remains unchanged, the tools and platforms that facilitate affiliate marketing are evolving.
Enter PartnerStack: an emerging platform that is transforming the way businesses approach affiliate partnerships.
In this article, we delve deep into the PartnerStack affiliate program, what makes it unique, and why it's rapidly gaining popularity among businesses and affiliates alike.
What is PartnerStack?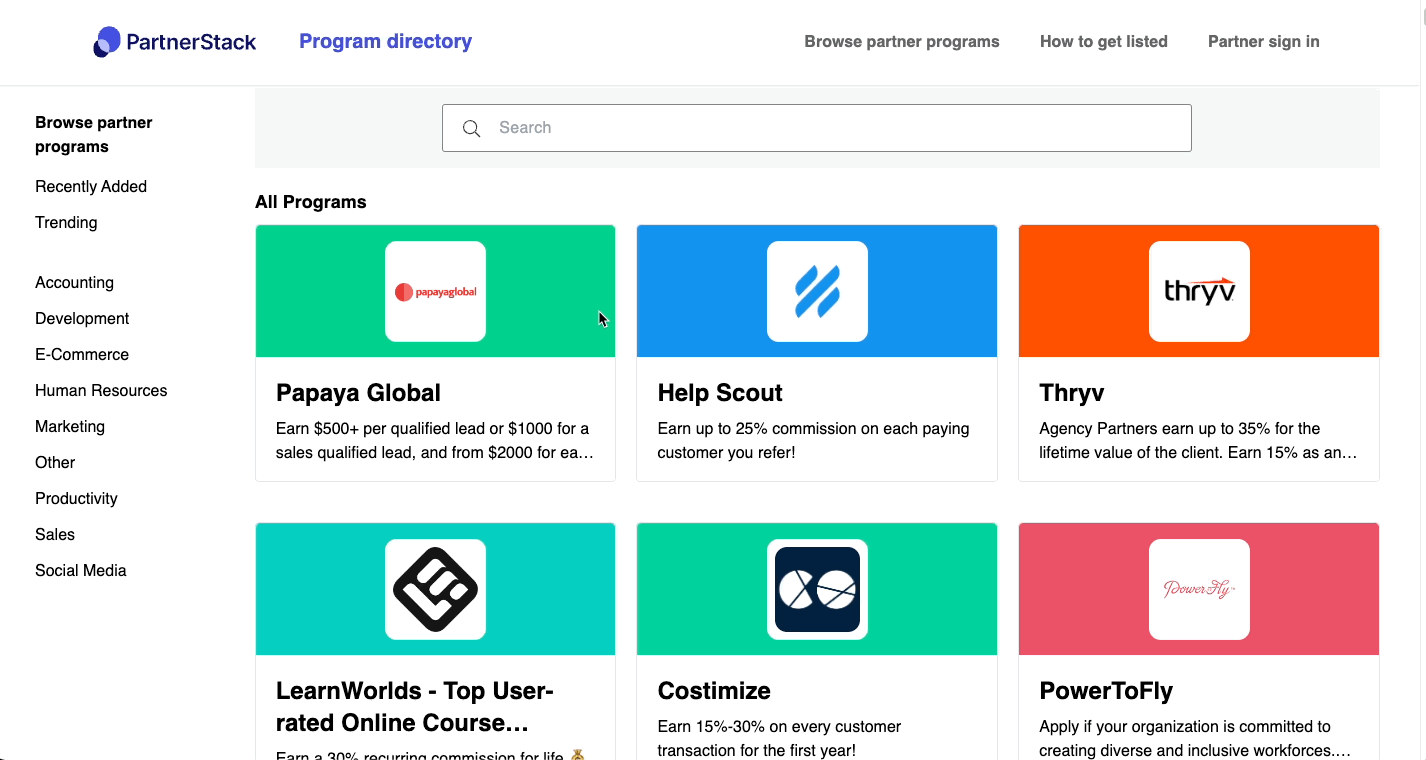 PartnerStack is a full-stack partner relationship management (PRM) platform that assists companies in managing, scaling, and automating their partner programs, including affiliate partnerships.
The platform brings together SaaS companies and affiliate marketers, making it easier for both to form and benefit from mutual relationships.
Key Features of PartnerStack
Understanding what sets PartnerStack apart from other platforms requires a close look at its distinctive features:
Automation at its Finest
PartnerStack automates many of the manual tasks involved in managing partner programs, including tracking, payouts, and reporting. This frees up time and ensures accuracy.
Customized Partner Programs
Businesses have the flexibility to create custom programs tailored to specific types of partners, be it influencers, affiliates, or resellers.
Real-time Performance Tracking
Users get instant insights into how their campaigns are performing, allowing them to make quick adjustments for better results.
Global Payouts
With support for multiple currencies and payment methods, PartnerStack facilitates smooth international operations.
Marketplace for Affiliates
Affiliates can easily discover new brands to promote within the PartnerStack marketplace, while brands gain exposure to a pool of potential partners.
What is Partnerstack Marketplace?
PartnerStack's marketplace is an integral feature of the PartnerStack platform, designed to benefit both businesses and partners, particularly affiliates.
Here's a breakdown of what the PartnerStack marketplace is and how it functions:
Overview of the PartnerStack Marketplace
The PartnerStack marketplace is essentially a digital space where SaaS companies (software as a service) and other businesses that have set up partner programs on PartnerStack can showcase their products and offerings.
Affiliates and partners, on the other hand, can browse through this marketplace to discover new brands, products, or services that they might be interested in promoting.
Benefits for Affiliates/Partners
Discovery of New Opportunities: Affiliates can explore various businesses and products, opening doors to new promotional opportunities that align with their audience and niche.
Diverse Selection: With multiple SaaS companies and products featured, affiliates have a vast selection, ensuring they can find products that resonate with their audience.
Easy Onboarding: Once an affiliate finds a brand or product they want to promote, the onboarding process is straightforward, enabling them to quickly start their promotional activities.
Centralized Management: Affiliates can manage multiple partnerships from one centralized dashboard, streamlining their operations and tracking.
Benefits for Businesses
Increased Visibility: Businesses get an additional channel to showcase their offerings, increasing their exposure to potential partners.
Quality Partnerships: The marketplace attracts a range of affiliates, including those who are experienced and skilled in their promotional tactics.
Simplified Recruitment: Instead of reaching out and recruiting partners individually, businesses can attract interested affiliates directly through the marketplace.
Competitive Analysis: Businesses can also see what competitors or similar industries are offering, allowing them to tweak their own programs to be more attractive.
The Benefits of Joining the PartnerStack Affiliate Program
For affiliates, PartnerStack offers several compelling advantages:
Diverse Opportunities
The platform houses a variety of SaaS companies, allowing affiliates to select products or services that resonate with their audience.
Transparent Analytics
No more guessing games. Affiliates have a clear view of their performance metrics, ensuring they're always in the loop.
Timely Payments
PartnerStack is known for its punctual payouts, ensuring that affiliates are compensated for their efforts in a timely manner.
Dedicated Support
With a responsive support team, affiliates can get their queries and issues resolved quickly.
How Businesses Can Leverage PartnerStack
For businesses, the benefits of PartnerStack extend beyond simply managing affiliates:
Recruitment of Quality Affiliates
The PartnerStack marketplace is a melting pot of seasoned affiliate marketers, giving businesses an opportunity to collaborate with the best in the industry.
Scalability
As your business grows, PartnerStack grows with you, offering the tools and infrastructure needed to manage a vast network of partners.
Enhanced Brand Visibility
Being a part of the PartnerStack ecosystem gives brands an additional channel to showcase their offerings and drive more organic traffic.
Streamlined Processes
From onboarding new affiliates to analyzing campaign performance, PartnerStack provides a streamlined solution, eliminating the need for multiple tools.
Success Stories with PartnerStack
Numerous businesses and affiliates have already reaped the rewards of the PartnerStack program.
Companies have reported significant growth in their partner-driven revenue, while affiliates praise the platform for its user-friendly interface and reliable payout system.
Such success stories underline the effectiveness of PartnerStack in bridging the gap between businesses seeking exposure and affiliates looking for reputable brands to promote.
Conclusion
The world of affiliate marketing is constantly evolving. While the core principles remain, the tools and platforms that facilitate it are undergoing revolutionary changes.
PartnerStack stands out as a front-runner in this evolution, offering a comprehensive solution for both businesses and affiliates.
As the platform continues to grow and innovate, the PartnerStack affiliate program is poised to redefine the affiliate marketing landscape.
For those eager to get ahead in the game, now is the time to explore the potential of PartnerStack.