In 2023, Canva continues to stand as a prominent figure in the graphic design landscape, catering to a wide spectrum of users with its versatile pricing models.
From individuals and small businesses to large enterprises, Canva's pricing structure is designed to accommodate diverse needs and budgets.
This article aims to provide a clear overview of Canva's pricing, distinguishing between its free and paid models, detailing its various subscription tiers, and noting any significant changes from previous years.
Canva Free vs. Paid Models
The Free Model
Canva's free model is a testament to its commitment to accessibility. It offers users a substantial range of features without any cost. Users have access to:
Thousands of free templates.
A vast array of basic design tools and elements.
Limited access to Canva's photo and icon library.
The ability to collaborate and share designs with other users.
The free version is particularly popular among students, educators, and small businesses starting their journey into the world of digital design.
The Paid Models
Canva's paid models, on the other hand, unlock a richer set of features, designed for more demanding design tasks. These models are categorized into different subscription tiers, each tailored to specific user needs.
Canva Subscription Tiers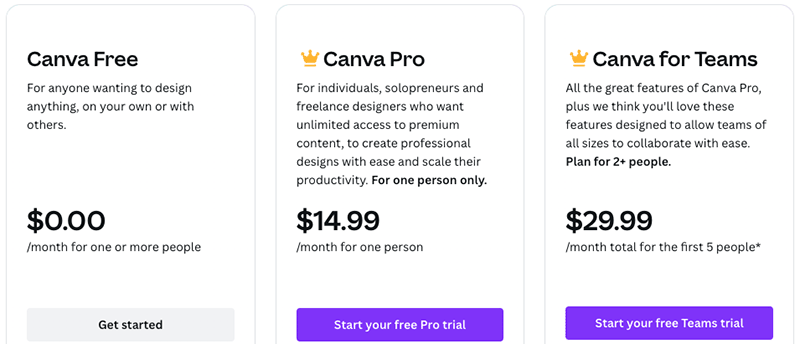 Canva Pro Pricing
Cost: The Pro tier is priced to cater to individual professionals and small teams.
Features:

Access to a vast library of premium stock images, videos, and audio.
Advanced design tools like background remover and Magic Resize.
Greater storage space for assets and the ability to save templates.
Brand Kit for maintaining brand consistency across designs.
Canva for Teams
Cost: This tier is tailored for larger organizations, with pricing structured to accommodate multiple users.
Features:

Everything in Canva Pro, plus enhanced collaboration tools.
Advanced brand and template locking to maintain brand integrity.
Built-in workflows for design approval.
Dedicated customer support.
Comparison with Previous Years
In 2023, Canva has made subtle but impactful adjustments to its pricing and features. The Pro tier has seen an expansion in its asset library and additional collaboration features, maintaining its competitive pricing.
The Enterprise model has enhanced its collaboration and brand management tools, reflecting the evolving needs of larger organizations.
These changes reflect Canva's ongoing commitment to providing value at every level of its pricing structure.
Conclusion
Canva's pricing structure offers a clear, tiered approach to meet the diverse needs of its user base.
From free access for basic use to advanced features in its paid tiers, Canva ensures that whether you're a solo designer, a small business, or a large corporation, there's a plan that fits your needs.
This adaptive pricing model, coupled with continuous feature upgrades, cements Canva's position as a versatile and indispensable tool in the realm of digital design.